New Executive Committee of the Bhutanese Australian Association of South Australia (BAASA) has been elected. The five-member New Executive will replace the old committee which had been working since the formation of the organisation in 2009. The newly elected executive committee members include Suren Ghaley (Chairperson), Sushil Niroula (Public Officer), Kamal Dahal (Vice Chairperson), Jeevan Koirala (Treasurer) and Indra Adhikari (General Secretary).
The election committee, formed by Annual General Meeting (AGM) in July last year, mandated to elected five-member executive board within the first quarter of 2012. The committee members include Ichha Poudel (chair), T. B. Rai (member) and Bishnu Dahal (member). As the committee received only 5 nominations within the given timeline, voting process was not needed. The committee declared the result on March 24.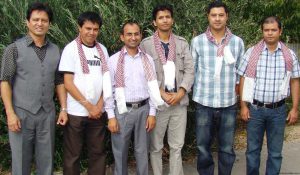 According to amended constitution of the organisation, chairperson, vice chairperson, general secretary, treasurer and public officer form the executive committee.
In the meantime, the new Executive Committee has taken over the responsibility from previous committee. The handing-taking ceremony was held in Salisbury on 6 April 2012.
Outgoing chairperson Jogen Gazmere expressed hope that the new committee will provide more services to the community to help them settle well in South Australia and wished the new team best of luck in their endeavour to serve the community.
Newly elected chairperson Suren Ghaley said he expects support and solidarity from community members, seniors and well-wishers to make organisation's services more effective.
Community members, members of the former executive committee, advisory board and Apex Council were present at the handing-taking ceremony.