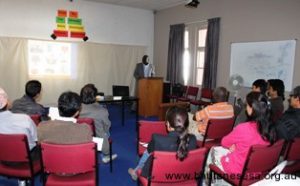 What Bhutanese in South Australia will be doing and what would their organization offer during this period and beyond that? It's seems imaginary yet practicable for Bhutanese Association of South Australia (BASA).
Called 'The Strategic Planning Session', the three-day gathering took place at the scenic eastern Adelaide Hills, an hour drive from Adelaide city, inside the Youth With A Mission (YWAM) Centre. Members of the constitutional bodies of BASA including Apex Councilors, Executive members, Advisors and Ombudspersons, well wishers and volunteers gathered at the YWAM centre on April 15, 16 and 17 to develop strategy for the delivery of effective services to the community for next five years and thereafter.
Australian Refugee Association (ARA), which runs the Settlement Grant Program (SGP) in partnership with BASA sponsored and facilitated the planning day.
The formal planning began after Cilian Kidega, a trainer at ARA, presented on the need and different models of the strategic planning for the community.
The volunteers having special influence in the community who arrived in Australia lately joined the BASA constitutional body members and provided useful inputs to draw our effective plans for the community in several aspects such as education, employment, health, sports, recreation, entertainment, culture, settlement and such others. The major focus was laid on the self reliance of the community and integration into the mainstream Australian society. The plan will come into effect after Apex Council endorses it.
A short meeting of BASA constitutional bodies also resolved to call for Annual General Meeting (AGM) in second week of July this year for restructuring the constitutional bodies and slightly amend the constitution.
Kevin Liston, a former CEO of ARA working with communities for last 35 years, now senior staff with the Family SA, inspired the participants reflecting the strength of the Bhutanese Australians especially on education, culture and the step taken towards self reliance.
Hari Pokhrel, Kedar Chapagain and Damanta Adhikari supported the event in catering needs.