Bhutanese in Adelaide, South Australia observed Dasai, one of the greatest festivals of Hindus, amidst a community gathering at Migrant Resource Center, Salisbury on Sunday, October 17.
The function initiated by Bhutanese Association of South Australia (BASA) was attended by over 100 Bhutanese resettled here where elderly members of the community Dibyaloka Bhattarai, Saraswati Ghimire and R. K. Ghalley offered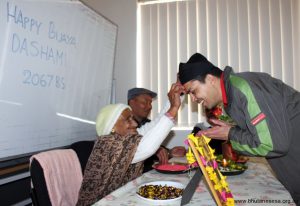 tika and blessings to other members while Shushil Pokharel recited blessing mantras.
Sushil Niraula, Cultural Desk Coordinator of BASA welcomed the community members followed by festival wishes for prosperity and better future from BASA chairman Jogen Gazmere.
The tika ceremony was followed by singing and dancing. From 3-year-old Sohan Niraula to 84-year-old Saraswoti Ghimirey, the participants sang and danced to turn the occasion festive and make it memorable. Tea and sweets were served to the participants.
This is the second time resettled Bhutanese in South Australia celebrated Dasai at community gathering. They plan for bigger festive gathering in the years to come. on the occasion, the participants also discussed on plans to celebrate upcoming festival Tihar in a memorable way.
Dasai celebration in Bhutan was under constant fear. Two decades in Nepal passed without any glimpses of celebrating festival through heart. It was only after arriving in Australia that Hindu Bhutanese opened their heart to celebrate the festival.
Dasai is celebrated by Hindus to mark the victory of truth over evil. In South Asia, the festival also marks the end of summer season when farmers get free from their works at farms. For first 9 days, Goddess Durga is worshiped followed by receiving tika and blessings from seniors and parents for other six days.