Bhutanese Association in Australia has been awarded AUD $77,053.00 SGP fund to help in their process of transition and integration in South Australia.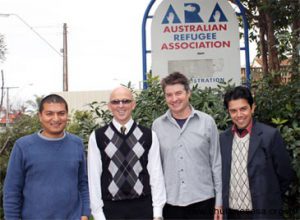 The Settlement Grant Project (SGP) is funded by the Department of Immigration and Citizenship (DIAC) for 1 year and is managed by the Australian Refugee Association (ARA) in collaboration with Bhutanese Association in South Australia (BASA). ARA has recruited Bikram Adhikari and Sushil Niroula from the Bhutanese community as the project officers to deliver the services to the community.
The fund will be used to provide a number of services to the eligible community members including case working, referrals and information sessions. This is the first ever SGP grant that the Bhutanese humanitarian entrants have exclusively received after their resettlement in SA began in mid-2008.
Terming the ARA managed SGP for BASA a "milestone" for the Bhutanese in South Australia, Jogen Gazmere, the Chairperson of BASA said, "It is, in fact, the beginning of a new and significant chapter, where Bhutanese, in first hand, will learn the work culture and ethics prevalent in Australia. This will facilitate and pave way for the effective and healthier integration of Bhutanese in the broader Australian society."
According to Bikram Adhikari, the grant, besides providing community people with the settlement services after they are exited from the IHSS programme currently run by Migrant Resource Centre (MRC), it will also focus on developing future leaders, equipped with professional skills to develop plans and programmes for the community independently.
In October 2009, ARA had formulated a work-plan for a grant with the help of Bikram Adhikari, who was then a trainee there. The ARA Chief Executive Officer, Peter Laintoll similarly expressed his happiness over the awarding of the managed grant to BASA. He said, "ARA sees the awarding of the BASA managed grant as a clear indication of DIAC's support of building capacity of small and emerging communities. He was optimistic that with one year of mentorship, BASA will have the capacity to submit the SGP for 2011/12 financial year with BASA as Grant Manager and ARA providing a professional mentoring role."
Meanwhile, the Federal Minister for Immigration and Citizenship, Senator Chris Evans and MP Steve Georganas , Federal Member for Hindmarsh visited ARA and also discussed various aspects of the Bhutanese settlement in South Australia including the SGP grant, with the Bhutanese Project Officers. Ichha Poudyel, who represented BASA at the meeting, thanked the Minister for the Government effort to help Bhutanese settle in South Australia. He also informed the minister about the problems of the family whose members are still in the refugee camp awaiting reunion.
By Ichha Poudyel